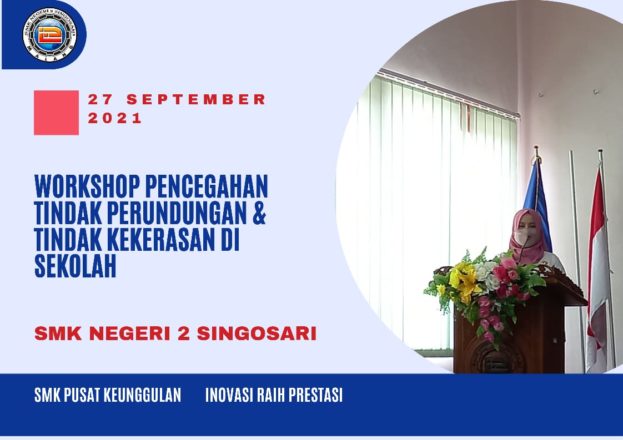 Perundungan, atau yang lebih dikenal dengan istilah bullying, merupakan tindak kekerasan atau penindasan yang dilakukan secara sengaja oleh seseorang atau sekelompok orang kepada orang lain. Fenomena perundungan ini tak terkecuali juga dapat terjadi di sekolah. Maka dari itu, untuk mencegah terjadinya perundungan maupun tindak kekerasan di lingkungan sekolah, SMK Negeri 2 Singosari mengadakan workshop tentang anti perundungan yang dilaksanakan pada hari Senin tanggal 27 September, 2021.
Acara yang diadakan di aula pada pukul 8 pagi ini dibuka dengan sambutan dari Ibu Sumijah, S.Pd., M.Si. selaku kepala sekolah. Beliau menyampaikan bahwa sebagai pendidik yang mengayomi siswa, sudah sewajarnya pendidik melindungi dan memberi ruang aman selama pembelajaran berlangsung. Dengan mengikuti workshop ini, diharapkan para pendidik menyadari bagaimana suatu perundungan terjadi. Sehingga di kemudian hari, pendidik mampu menebarkan kebaikan dan mengurangi kata-kata maupun perbuatan yang kurang menyenangkan dalam mengembangkan potensi dan menghantarkan siswa-siswi pada masa yang akan datang.
Pemateri dalam workshop anti perundungan ini yaitu Ilhamuddin Nukman, S.Psi., M.A. selaku dosen di jurusan Psikologi FISIP Universitas Brawijaya. Dengan pembawaannya yang ceria, beliau memimpin peserta workshop dengan menanyakan arti kebahagiaan dan mengajak para peserta untuk senantiasa tersenyum. Beliau menuturkan, ciri-ciri kebahagiaan seseorang adalah ketika mereka tersenyum.
Bapak Ilham kemudian menjelaskan, kekerasan adalah sesuatu yang menyebabkan rasa sakit, tidak nyaman, dan tidak aman. Rasa sakit ini terbagi menjadi dua, yakni sakit fisik dan sakit psikis. Sakit fisik dapat disembuhkan dengan istirahat, sementara sakit psikis obatnya melalui proses. Kedua rasa sakit ini adalah akibat yang bisa ditimbulkan dari tindakan perundungan.
Menurut Bapak Ilham, perundungan terjadi karena pelaku tidak bisa menerima kondisi temannya. Hal ini mampu menimbulkan trauma pada korban, sehingga korban akan menarik diri dari lingkungan sosial dan semakin dijauhi teman-temannya. Oleh karena itu, peserta didik perlu mengetahui pengertian bullying dan dampak fisik maupun psikisnya terhadap korban.
Demi menciptakan lingkungan sekolah yang aman dan nyaman antara peserta didik, guru, dan pihak sekolah, maka perlu dibentuk iklim sekolah positif. Bapak Ilham menuturkan, iklim sekolah positif memiliki lima ciri-ciri. Pertama, school climate positif berdampak pada kenyamanan siswa selama melaksanakan proses pembelajaran. Kedua, siswa mendapat dukungan interpersonal relationship yang diberikan oleh guru maupun teman yang memberikan dampak positif terhadap perubahan siswa. Ketiga, mempermudah siswa berkomunikasi dengan berbagai pihak untuk mendukung keberhasilannya dalam menyelesaikan tugas. Keempat, dukungan guru yang menjadi aspek dalam school climate membuat siswa lebih percaya diri untuk menyelesaikan tugas yang diberikan. Kelima, berkorelasi dengan tingkat tanggung jawab siswa untuk terlibat secara aktif di sekolah.
Demi menciptakan lingkungan sekolah positif, diperlukan aspek aman, nyaman, dan estetis. Bapak Ilham mengatakan, rasa aman berhubungan dengan rasa aman secara fisik maupun psikologis. Sementara rasa nyaman adalah "kerasan", rasa betah untuk ada di sekolah. Beliau menganjurkan agar kita mengkampanyekan dan mensosialisasikan sekolah anti perundungan. Kita perlu sadar bahwa kita tidak perlu menyakiti orang lain, bahwa kita bisa menahan diri untuk tidak melakukan tindak kekerasan.
Selain menciptakan lingkungan sekolah positif, Bapak Ilham juga menuturkan adanya Dimensi Safety, Dimensi Teaching and Learning, Dimensi Interpersonal Relationship, serta Dimensi Institutional Environment. Ketiga dimensi ini dapat mendukung terbentuknya lingkungan sekolah positif.
Dimensi Safety mencakup:
Rules and norm, memahami peraturan sekolah yang dikomunikasikan dengan jelas.
Sense of physical security, merasa aman selama di sekolah.
Social and emotional security, adanya kedekatan emosional yang terjalin antara siswa dengan pihak sekolah.
Dimensi Teaching and Learning mencakup:
Support for learning, dukungan dalam proses pembelajaran di dalam kelas.
Social and civic learning, dukungan untuk mengembangkan pengetahuan dan keterampilan sosial.
Dimensi Interpersonal relationship terdiri dari:
Sikap saling menghargai antar siswa dengan guru, teman dan staff sekolah.
Dukungan guru terhadap siswa dalam mencapai keberhasilan.
Hubungan antar siswa yang saling mendukung.
Terakhir, Dimensi Institutional Environment terdiri dari:
School connectedness, adanya ikatan positif dan rasa memiliki antara siswa dengan sekolah.
Physical Surroundings, berkaitan dengan kebersihan, ketertiban, daya tarik fasilitas menunjang kenyamanan siswa. Keterlibatan dan daya tarik fasilitas yang menunjang kenyamanan siswa.
Acara workshop ini juga diselingi dengan berbagai pertanyaan penuh antusiasme dari para peserta seputar perundungan yang kerap terjadi di lingkungan sekolah. Sebagai penutup, Bapak Ilham tak lupa mengingatkan kembali tentang pentingnya sekolah anti perundungan. Acara pun ditutup dengan doa dan dilanjutkan pada kesempatan berikutnya sesuai dengan rangkaian agenda SMK PK.